Incorporating a Barbecue Area Into Your Garden
For many people, a big benefit to having a garden is the ability to throw garden parties. During summertime, these are a regular occurrence in most people's lives, and a big part of these parties is a barbecue.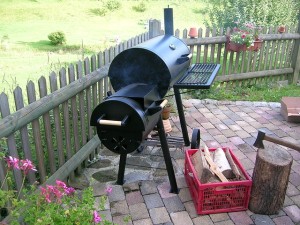 It's all well and good to just have a small barbecue for you and your family, but when you need to be able to prepare food for one hundred people, it means that a larger space will be required to make it feel less cramped, and to allow for a larger barbecue.
A great way to incorporate such an area within your garden is to set aside a semi-enclosed area for a couple of nice sized barbecues, so that you can have multiple people cooking side-by-side, and so that wind is not an issue; which can become a bad thing when it begins to blow smoke around a whole area. If you build a small enclosed area, it presents an ideal solution for your garden party plans.