A Gazebo for your Garden
Gazebos are a great piece of garden furniture, accomplishing numerous functions in one great package. It can be a great way for providing shelter from the weather, both sun and rain, while also providing a pleasant seating area for entertaining or for a place for you to sit when the weather precludes your sitting out in the open.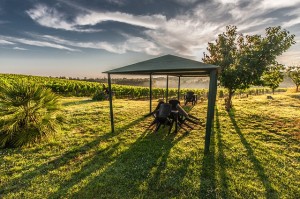 With gazebos, you can get a variety of styles and design functions. For instance, you can decide upon whether you want a sun blocking gazebo, which will typically be a grated top, or a rain blocking one, which will only block rain. You can of course get one which gets both, but there can be a trade off in that choice. They are also made with a variety of design themes, such as a more beach-hut-like design. Having this breadth of options to choose from can be quite useful, particularly if you are looking a gazebo which matches the rest of your garden furniture, and one which fits in seamlessly with your design theme.